When we setup apartments for refugees, we try to provide as many basic needs as possible. Your in-kind donations of new or lightly used items helps us reach that goal. You can select items from the lists below and contact us at 214-444-9889 for drop-off instructions. If you have furniture you would like to donate, you can contact World Relief Texas and fill out their donation form.
      Cooking Dishes
Cookie sheet
Muffin tin
Mixing bowls 
Baking dishes
Serving bowls
Saucepan
Tea kettle
Frying pans
Large stock pan or pressure cooker       
       Eating Dishes
Cutlery (fork, knife, spoon)
Silverware holder
Large plates
Small plates
Bowls
Cups
Glasses
Knives  (lg, med, sm)
    Kitchen Essentials
Plastic wrap
Aluminum foil
Paper towels 1 roll
Storage containers 
Ziploc bags  3 sizes
Pitcher
Ice cube trays
Cutting board
Measuring cups
Measuring spoons
Kitchen scissors
    Essentials Cont.
Can opener
Grater
Tongs
Ladle
Whisk
Slotted spoon
Wooden spoons 
Rubber spatula
Turning spatula
Colander
       Kitchen Linens
Dish towels
Dish Cloths
Pot holders
Apron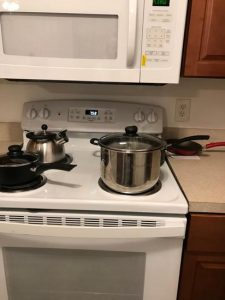 Bedroom and Home essential Needs
        Master Bedroom
Full/Queen comforter or bedspread
Flat Sheet
Fitted Sheet
Pillowcases
        Twin Bedroom
Twin comforter or bedspread
Flat Sheet
Fitted Sheet
Pillowcases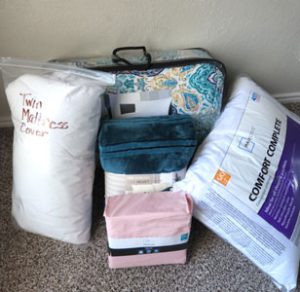 Home Essentials
Clear tape
Glue
Hammer
Pliers
Screwdrivers (flat head and Phillips head)
Duct tape
Batteries AA 4
Batteries AAA 4
Clothesline rope
Clothes pins
Flashlight
  Home Essentials cont.
Bandaids
Ibuprofen
Tylenol
Kleenex
Extension cord
Picture hangers
Magnets
 Scissors
Small first aid kit
Small sewing kit
Wall clock
Iron
      Cleaning Supplies
Dish soap
Scrub pads/sponges
Window cleaner   (no ammonia)
Cleaning cloths (new)
All purpose cleaner
Paper towels
Dishwasher liquid sm
Liquid hand soap
Broom and dustpan
Toilet bowl brush
#13 trash bags
Laundry detergent
Bathroom Needs and hygiene kits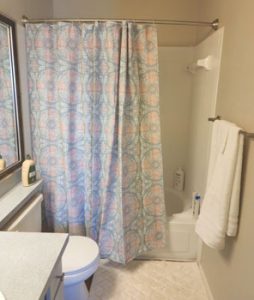 Bathroom Linens
Bath towels
Hand towel
Wash cloths
          Shower Setup
Bath mat (NEW)
Shower curtain (clean if gently used)
Curtain rings 1 pkg
       Child Hygiene Kit
Shampoo/conditioner for kids
Kid's toothbrush
Toothpaste
Body wash
Tylenol for kids
Toilet paper 4+
Adult Hygiene Kit
Shampoo
Conditioner
Bar Soap 2
Body Wash
Toothbrushes 2
Dental floss
Men's razors 4
 Adult Hygiene kit Cont.
Women's razors 4 
Shaving cream
Liquid hand soap 1
Deodorant men 1
Deodorant women 1
Toilet paper 4+
Feminine hygiene         (pads only)
Mother, baby, and school Kits
              Baby Kit
Diapers size 1,2 or 3
Wipes
Blanket
Baby hat
Onesies
Burp cloths
Bibs
Diaper pins
Baby shampoo
Baby lotion
Teething ring
Baby Tylenol
        Mother's Purse
Woman's purse
Wallet
Chapstick
Hair accessories
Travel Kleenex/wipes
Small notebook
Pen
Reusable water bottle
         Backpack Kit
Binder 1″ or 2″  1
1 Subject notebook 1
Pencils
Pens
Filler paper
Thin markers
Colored pencils
Highlighters
Small pencil sharpener
Reusable water bottle